Spider-Man 2 has now finally been released, and I'm sure you're itching to find out what all the main missions are and whether you've already missed an app request or two from the Friendly Neighborhood Spider-Man app! If you're unsure, then check out the list below.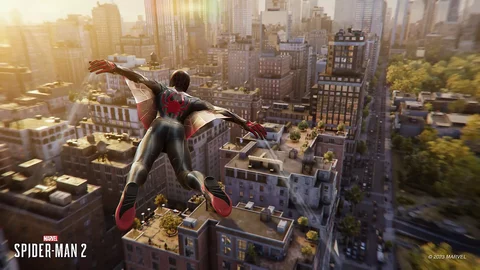 The moment we've all been waiting for has come: Spider-Man 2 is finally out! Now that we can swing and glide around NYC as both Peter AND Miles, there's lots to see and even more to do!
To make sure that you didn't miss any missions (or if you just can't wait to find out what's in store for Spider-Man 2) we've made two lists for you guys! One with all of the Spider-Man 2 main missions and another with all Friendly Neighborhood Spider-Man app requests.
Warning: Spoilers ahead!
Spider-Man 2: All Main Missions
To make things even easier, you'll find the corresponding locations next to the mission names, so you'll always know where you need to go next. That way, you can easily fast travel to your next destination, if you're not in the mood for swinging or gliding!
All together, there are 31 main missions for you to complete in Spider-Man 2 .
Surface Tension – Financial District
One Thing at a Time – Financial District
Show me New York – Little Odessa
Roll Like We Used To – Astoria
Not on my Watch – Upper East Side
Amends – Harlem
Healing the World – Greenwich
Bad Guys on the Block – Chinatown
Make Your Own Choices – Midtown
Master Illusionist – Downtown Brooklyn
A Second Chance – Downtown Brooklyn
Science Buddy – Greenwich
Hunt to Live, Live to Hunt – Williamsburg
Funky – Harlem
Good Men – Greenwich
The Flames Have Been Lit – Little Odessa
Stay Positive – Greenwich
Wings of My Own – Harlem
New Threads – Astoria
It Chose You – Upper West Side
Wake Up – Astoria
I'm the Hero Here – Upper East Side
No Escape – Harlem
Anything Can be Broken – Chinatown
Don't be Scared – Midtown
Trouble with Harry – Hell's Kitchen
This Isn't You – Astoria
Set Things Right – Financial District
It's All Connected – Midtown
Finally Free – Midtown
Together – Astoria
Spider-Man 2: All FNSM App Request Missions
If you're looking for a change of pace in-between all the stressful main missions, then you might want to take on an FNSM app request or two. There are six app quests in total that you can complete in Spider-Man 2, so fewer than in Spider-Man: Miles Morales, but don't worry, you'll still have plenty to do!
Photo Help – Midtown
Howard – Financial District
Graffiti Trouble – Little Odessa
Monster in Queens – Astoria
Find Grandpa – Downtown Brooklyn
Rooftop Fireworks – Williamsburg
Completing the app requests will each give you a 600-800 XP reward, as well as 200 Tech Parts and 2 Hero Tokens.
These are all the app requests we know about. If we discover any more missions, we'll make sure to keep you updated!
For more Spider-Man 2 news and guides, check out some of our other articles:
If you haven't seen the launch trailer yet, make sure to check it out!